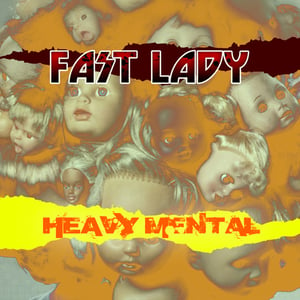 £

6.66
The official end of the NEW, NEW wave of Heavy Metal is upon us.
For over a decade Fast Lady have furrowed a unique path down the rocky road of rolling rock. Indulging the listener in a bizarre listen, cock rock on lap tops... what's that all about!

A 3 piece hooded live spectacle from men old enough to be dating nieces. Audiences across the land from rooms with 3 people in to 300 left concerts in a state of shock, awe or ecstasy.
Mirroring every rock cliche they purposely took 8 years to release their second album. A strategic decision to out mode Guns & Roses 'difficult' come back record.
The myths. Chalice decrees being delivered to them by members of Saxon on the moors above Barnsley, Sebastian being donated Phil Collins penis in a final life saving operation... the band have never 'played the game'.
'Heavy Mental' is the end of Fast Lady. The band with help from friends, influences and heroes.
The album has taken over a year to collate with help and input from the best of best: Shitmat, Cock ESP, Animal, The Nearly, Solypsis, DJ Sarah Wilson and many many more.
Artists worldwide from the usual suspects. ex- V/Vm Test records, Wrong Music and Digital Vomit have all contributed.
An album that we promise you will have never heard the like of before.
Nor will you ever hear again.
Fast Lady (1999 - 2012)
Available to order now:
Limited edition CD in custom packaging
All pre-orders will receive the digital album pre-release with an exclusive remix by Twenty Three of 'Blue Jean'
Official release date 30th April 2012.
01 GUNS WOMEN N BIKES (SHARP TOOLS REMIX)
02 WILD EYED WOMAN (THE NEARLY REMIX)
03 MASK OF VERLAINE (ANIMAL MACGREGOR'S CAVERN TAVERN REMIX)
04 RECIPE OF SIN (BLUE AMBEROL REMIX)
05 BROKEN BISCUITS (SHITMAT'S DR. POO REMIX)
06 ORADOH THE HORSE (ALIEN HAND REMIX)
07 BLUE JEAN (THE GROSS CONSUMER DOESN'T WEAR JEANS REMIX)
08 BROKEN BISCUITS (COCK ESP REMIX)
09 WHY DON'T WE JUST GO SHOOT OURSELVES (TWOCSINAK & DJ SARAH WILSON REMIX)
10 GUNS WOMEN N BIKES (THE ABOMINABLE MR TINKLER REMIX)
11 MASK OF VERLAINE (CHRIS MOSS ACID REMIX)
12 THE SAD TALE OF THOMAS JAMES (BIG IN ALBANIA REMIX)
13 BLUE JEAN (HARDOFF REMIX)
14 PENETRATOR (MOCKSTAR REMIX)
15 JIMMY JOES HOODOO (SOLYPSIS REMIX)