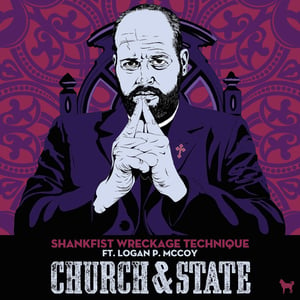 £

1.99
SHANKFIST WRECKAGE TECHNIQUE RETURN.
TO CELEBRATE THE BRILLIANT NEW COLLABORATION WITH LOGAN P. MCOY RELEASED 28/05/12. YOU CAN NOW GRAB THIS FREE SHANKFIST EP AND BUY THE DIGITAL SINGLE NOW.
THIS DIGI BUNDLE GIVES YOU THE FULL RELEASE FOR ONLY £1.99! WITH THE DYNASTY & ALIEN HAND REMIXES & THE EXCLUSIVE NEW TRACK 'CLOWN METAL'
'CHURCH & STATE' WILL ALSO BE AT ITUNES & AMAZON AVAILABLE MAY 28TH.
ALL TITLES: COPYRIGHT SHANKFIST 2012
WWW.ELPERROROJORECORDS.COM